England Win the 2014 IRB Junior World Championship
A tough match for both sides, England will take home the IRB Junior World Championship trophy for the second consecutive year. 
England came out strong in the first 5 minutes but for the rest of the first half SA held majority possession and territory.
12 minutes in and SA began to camp in England's 22m. England, a bit overzealous in their defence, was caught offside in front of their posts. Pollard put SA's first 3 on the board.
In response England went immediately into SA's 22m, this time SA collected an offside call and Burns equalized with 3 points for his side in the 16th minute.
Andre Esterhuizen and Dayan van der Westhuizen began causing real problems for England's defence, constantly making metres with the crash ball.
After a tap and go in their own 22, England looked dangerous but fumbled a pass that the Junior Boks collected. Pollard chipped for Jesse Kriel to collect and Jesse scored the Baby Boks' first try of the game. Pollard converted, 10-3 to SA at 19 minutes.
An offside to the Junior Boks gave Aaron Morris a chance from 55 metres. He converted to make it 6-10 to SA.
Nick Thompkins had an excellent run, breaking tackles left and right only to be brought down by Warrick Gelant on the try line. Quick play to Nathan Earle, who dotted down in the corner, gave England a much needed try. Billy Burns shot wide to leave it 11-10 to England at the half.
England's counter attack looked much more dangerous in the second half, and after making all the errors in the first half it became the Baby Boks' turn.
SA's lineout continued looking much better than England's as JD Schickerling stole one in England's 22m. The opportunity was not capitalized on and soon after Billy Burns converted a penalty to increase England's lead to 14-10 at 44 minutes.
After a drive down the left side by Petersen and Gelant, Pollard converted a penalty closing the gap 13-14.
Cornel Els went off with a twisted knee and SA, having lost some pack weight, allowed England to maul for a try by Joel Conlon. Burns converted to stretch the lead 21-13 England.
The pace picked up nearing the 60th minute for both sides with many carrying opportunities, and after strong push by England SA picked up an offside call but Burns missed the penalty.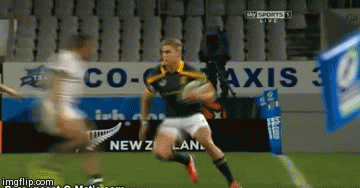 SA took a midfield scrum to begin a great phase starting at Warrick Gelant, then to Dan Kriel then Duhan van der Merwe, who bounced a defender to stay upright, and then to Jesse Kriel for the try. Pollard converted narrowing the gap by 1. 20-21 to England with 15 minutes to play.
Jean-Luc Du Preez, Duhan van der Merwe, and Dan Kriel looked to be mincing England's defence as the Baby Boks camped in England's 22, though handling errors prevented SA from capitalizing on the opportunities. The contest remained within England's 22m for minutes before Pollard dropped back for a drop goal that sailed achingly close but still wide.
They're big physical guys and they really put it to us. [...] It was a full 23 effort. –Billy Burns
When England regained possession they successfully held off SA to run down the clock for a very well-earned win.
IRB Junior World Cup 2014 Final Standings
England
South Africa
New Zealand
Ireland
Australia
France
Wales
Samoa
Argentina
Scotland
Italy
Fiji - relegated to IRB Junior World Rugby Trophy
Follow YSN here: